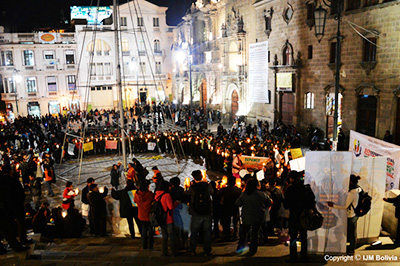 The plague of sexual violence in Bolivia is devastating:
"In [Bolivia], a country of 10 million people, where tens of thousands of sexual assaults against children occur every year, from 2000 to 2007 the criminal justice system was able to convict fewer than three perpetrators of child sexual assault per year. If you sexually assault a child in Bolivia, you are more likely to die slipping in the shower or bathtub than you are of going to jail for your crime." – The Locust Effect
But momentum is starting to grow to end the plague of sexual violence. Check out the amazing event that recently unfolded on La Paz's Central Plaza:
"Central Plaza is always a hub of activity. Food vendors and street performers vie for the attention of Bolivian families and tourists alike. But the crowd that gathered by candlelight on a Tuesday night in November was different: More than 300 people descended on the plaza holding signs and peacefully calling for an end to the plague of sexual violence in their country.
About half of the crowd was made up of police officers currently in training. But they weren't there to break up or even monitor the protest—they were there as participants calling out for change in Bolivia."
Read the full story of this powerful protest here »
This is how a movement begins. Raise your voice with these courageous officers by adding your name to our petition.